About Us
Spinner Entertainment is an entertainment company specializing in bringing a multitude of different types of performers and acts to Louisiana, Texas, and Arkansas. We have many active performers such as hoopers, juggler, stilt walkers, poi spinners, fire breathers and performers, musicians, magicians, human statues, living decor, and many many more. We are constantly adding new performers to our repertoire. We happily serve clients of both small and large in Shreveport, Bossier City, Keithville, Haughton, Ruston, Monroe, Natchitoches, Minden, Garland, Longview, Dallas, Little Rock, AR, El Dorado, and many more surrounding areas in Arkansas, Louisiana, and Texas.
Spinner Entertainment was created by Josh Ellis, a local juggler/stilt walker/balloon artist, in Shreveport, LA. He felt a need for this type of business for the Shreveport area. While Josh Ellis, a.k.a. Arty Dodger, is actively searching for new opportunities and new performers, he is accompanied by Shannon McCole, a beautiful and talented hooper/stilt walker/balloon artist in Shreveport, LA
Josh is also accompanied by his amazing and beautiful wife, Laura Ellis. She has allowed Josh to follow his dreams, which makes her a remarkable life partner. Josh Ellis also has a beautiful daughter, Jordan Ellis, in which he hopes to one day share this beautiful gift of talent and hopes she steps in her father's footsteps.
Meet the Team
BIO
A native of Louisiana, Josh Ellis has spent years honing his craft and is ready to bring his talents to the world. Also known as "Arty Dodger" & " JC Spinner" boasts a wide repertoire, including stilt walking, balloon artisty, comedy and hat manipulation as well as high energy juggling with fire, knives, clubs, balls and rings. He is known as the most dangerous man in juggling. His ability for variety also lends itself to adaptability in performing. Whether it be on the street or at a corporate event, before a festival crowd or for birthday parties, Josh can do it all. When Josh is not working at his day job or stilt walking at Margaritaville in Bossier City, LA, he also occasionally acts as a juggling instructor at the Lotus Studio in Shreveport, LA, and is venturing into parenthood and family life with his wife, Laura.
---
PERSONAL LINKS:
---
---
---
A native of Shreveport, LA Shannon McCole has dedicated her life to the art of hula hooping. Equipped with her LED and Fire hoops, Shannon makes for a remarkable performer. See her in action at Margaritaville as a premiere stilt walker and watch her hoop gracefully, 9′ in the air. While she isn't working on the business and working as a Stilt Walker, Shannon is the owner of Circularity Hoops where she makes all types and sizes of hoops. Next time you are at a festival in Shreveport, swing by her booth and she will be happy to meet you. Shannon is ready to entertain whether it is on stilts, hooping, or making crazy balloon shapes.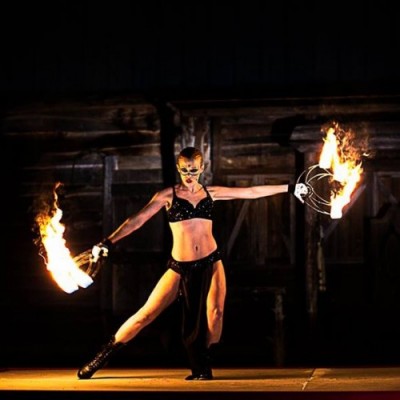 Courtney Shay Young is a professional actress, singer, director, choreographer, instructor, dancer, stunt girl, and model living in Shreveport, Louisiana. She has a BA in Performing Arts from Northwestern State University, and is a former NBA Rockets Power Dancer and Vegas Pin Up. She has collectively performed in Los Angeles, Las Vegas, Houston, Louisiana, and oversees in various places in Asia. Her credits extend from acting, singing, dancing, choreography, and instructing to stunt work, photo doubling, body doubling, and standing in on feature films, TV, commercials, and music videos.
Courtney has a choreography company called C Choreography, an entertainment production company called Factory Gurlz Productions, LLC, and a nonprofit called The Factory Foundation all founded with her long time friend Wanetah Walmsley. They also collectively produced a professional dance troupe: Bon Temps Burlesque –The First Neo-Burlesque Dance troupe in the Ark-LA-Tex.
Courtney recently choreographed for the MTV feature MADE 2: Ladies Man due out in October 2013. She also choreographed and danced in the feature film LOOPER staring Piper Perabo and Bruce Wills on DVD now as well as choreographed all dance scenes in the feature film Vampires Suck. Courtney is currently featured as a principle dancer in the national and international NAIR commercials, and as "Angela" in the Darkest Hour music video "Savor the Kill". You can also see Courtney in Harold & Kumar 2 as "Sparkle". See her singing and dancing in Disaster Movie, The Year One, and Straw Dogs. She plays "Johanna Remqvist" in a local SAG web series production HAINTS which is written & directed by Bon Temps Burlesque bombshell: Audra Caitlyn Moss. Look for her comedic role in Suit Up 2 coming soon.
Courtney stars in ZYDECO as "Erin McCoy" in a local independent film which has been submitted to numerous horror film festivals for 2012, and will soon be on NETflicks. Check out her choreography in Vampires Suck and her stunt work for Kate Boseworth in the recent release Straw Dogs. Be sure to look for her choreography and dancing alongside Piper Perabo from Coyote Ugly with other members of Bon Temps Burlesque bombshells: Emma Busi, Tamara Mayer, Leslie Hankins, and co-founder Wanetah Walmsley in the feature film LOOPER.